TechTalk Retail 2023: exclusive 'CTO & CIO only' catch up on composable commerce
On
October 6th of 2023
the city of Amsterdam will take center stage as capital of retail tech. Over forty CTO's and CIO's from the Top 100 consumer brands will gather at Fosbury and Son's to enjoy an eye-opening
live talkshow
about composable commerce. Major Dutch disruptors share how they are supercharging their business with MACH architecture. TechTalk Retail is a Webhelden-event in collaboration with founding partner commercetools and Google Cloud. Moderated by none other than Picnic CTO and co-founder
Daniel Gebler
. Why did the brands on the panel switch from legacy architecture to composable commerce? What has it brought them in terms of speed to market, increased transactions and total cost of ownership? And what could making the switch mean for
your brand
? Our panelists and the other delegates would love to hear your take on the matter. We've planned lots of time for
networking
before and after the talkshow. This invite only exclusive tech networking event will unite those who make the bold calls that need to be made in the changing world of commerce today. Should your brand be on the list? There are only forty seats, claim yours today!
Fill out this form and make your interest known.
Left to right: Daniel Gebler (Picnic), Max Klijnstra (Otrium), Rik de Weerd (Plus Retail)
Line-up: Otrium and Plus Retail
Max Klijnstra (33) is co-founder and Chief Sustainability & Growth Officer at Otrium. The off-price fashion platform offers fashion brands a technical solution for unsold stocks. The ultimate goal is to ensure all clothing is worn.
Max and his friend Milan Daniels founded Otrium in 2015. The platforms American presence was launched in 2021 and business in the states is growing at rocket speed. New brands are consistently signing on. Donna Karan New York, Gwyneth Paltrow's Goop and Roberto Cavalli recently went live on Otrium. In 2022, Otrium featured more than 5 million products, grew revenue by 1,000% year over year, and grew new members by 500%. To ensure stable global growth American powerhouse Zuhairah Scott Washington was appointed CEO. Max stepped down as co-CEO and now acts as CSGO. Technology plays a major part in Otrium's growth strategy. The Dutch scale up is one of the first large consumer brands to have adopted a full MACH stack. Max and a senior engineer will discuss Otrium's current journey towards expansion and how composable commerce technology enables this. He will also shed light on the bumps in the road and how the O-team techies have overcome those.
Rik de Weerd leads the Enterprise Architecture and CIO-Office teams at PLUS Retail Chain, the Netherlands' largest cooperative supermarket chain and the third-largest nationwide. Rik: "After ten years in digital, I learned that I wanted to make more of a difference than just making poorly chosen solutions run as smoothly as possible. Investigating business cases at 100-120 large companies in Northern Europe and then carrying out a Proof of Value turned out to be a wonderful learning experience for me to understand what a solution needs to become a successful change. The digital transformation wave brought me back to retail, where Enterprise Architecture turned out to be the (missing) catalyst in answering the question: "How do we make the central strategy feasible?" Rik is looking forward to the talk with Daniel Gebler. "My specific question for Picnic is how do you prevent the build-up of technical debt and legacy? Is it possible to actually (continue to) work 'under architecture', or does the urgency of the Fast Moving Consumer Goods – Food market occasionally take over?" A question I would like to ask everyone attending is: "How do you determine the size of your building blocks in your modular approach and how does that relate to the organizational structure?"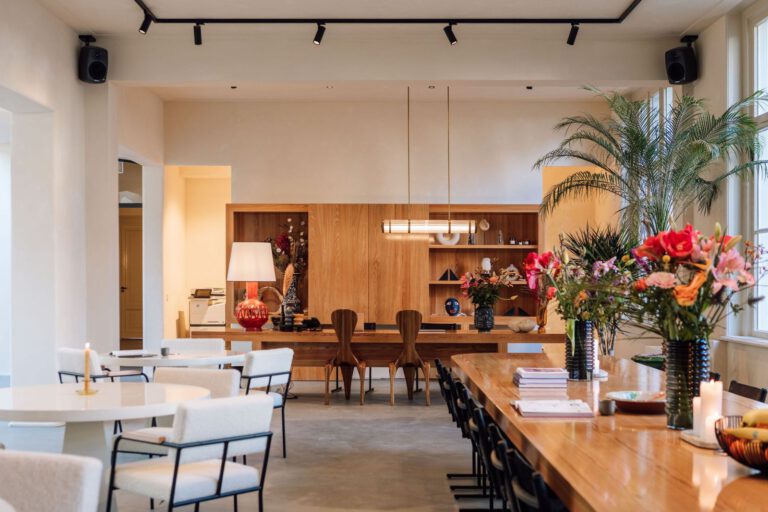 14.30 hrs Networking reception with sweet and savoury snacks
15.00 hrs Introduction of moderator Daniel Gebler (start of the talkshow)
15.30 hrs Break out session 1 (Q&A with our panelists)
16.00 hrs Break out session 2* (Q&A with our panelists)
17.00 hrs Walking Dinner (so you can tour the beautiful room at Fosbury & Son's)
*serving some snacks and drinks during the Break out session
·
Meet THE 40 business leaders in retail tech and pick their brain
·
Get exclusive insights that you can share with your team and board
·
Get your brand featured in the video (if you wish)
·
Get a new LinkedIn profile pic
·
Get the most out of your Friday and enjoy fabulous food & drinks
·
Get introduced to the wider Webhelden-network of C-Suite decision makers in commerce
About Webhelden


Webhelden is a Dutch based premier international community of founders of consumer brands and C-Suite leaders in commerce. Since inception in 2012, we have been committed to creating a curated environment that fosters valuable connections and promotes growth within the retail and e-commerce industries.
With a community of experienced retail & e-commerce leaders from diverse backgrounds, Webhelden brings together an international network of guests who share a common focus on digitalization. At our intimate events, we provide high-quality networking opportunities in an informal atmosphere, allowing our community members to build meaningful relationships that transcend borders and industries.
One of the pillars of our community is expanding knowledge. We pride ourselves on offering unique content developed by expert partners and industry thought leaders. Through these insights, we empower our members to stay ahead of the curve and drive innovation within their respective fields.
Collaboration lies at the heart of Webhelden. By fostering strong partnerships with our guests and industry partners, we invest in the continuous elevation of our industry, resulting in dozens of fruitful collaborations between brands within our alliance. As a result, our community has witnessed measurable business growth, made substantial progress in areas such as sustainability, inclusion, and technology, and embraced real steps towards positive change.
Webhelden is a dynamic and transformative community, where visionaries and innovators come together to shape the future of commerce. 
The inventor of headless commerce,
commercetools
is an innovative technology disruptor that has established itself as an industry-leading eCommerce software provider. Today, some of the world's most iconic brands and growth-focused businesses trust commercetools' powerful, flexible, scalable solutions to support their ever-evolving digital commerce needs. As the visionaries leading the modern MACH (Microservices-based, API-first, Cloud-native and Headless) architecture movement, commercetools provides customers with the agility to innovate and iterate on the fly, merge on and off-line channels, drive higher revenue, and future-proof their eCommerce business.
Headquartered in Germany, with offices across Europe, Asia, and North America, commercetools is singularly focused on leading a future of limitless commerce possibilities.
Google Cloud accelerates every organization's ability to digitally transform its business and industry. We deliver enterprise-grade solutions that leverage Google's cutting-edge technology, and tools that help developers build more sustainably. Customers in more than 200 countries and territories turn to Google Cloud as their trusted partner to enable growth and solve their most critical business problems.